HOW TO BUY YOUR 1ST PIECE OF ORIGINAL ART
Sep 01, 2019
#1 What do you really like?
Honestly – you're going to know it instinctively when you see it. Art has a way of speaking to you; getting under your skin, so to speak, - and when you view art you like, it stays with you. I would always recommend going with you heart first and foremost.
Some "art authorities" suggest checking out museums to familiarize yourself with the different periods and styles of art. If you have time to do this and enjoy it – then for sure do that. Whatever good that may be, still it's not necessary to know "styles" above what actually speaks to you; what actually calls out to you. Living with pieces of art that you really love is what's going to bring you more pleasure than confining yourself to a particular style, over what an "art authority" recommends you do. So go with your gut, and your own particular feelings on what speaks to you. You don't even have to identify why a particular piece speaks to you. You will know it and feel it when you see it.
People evolve in the love of art, from the roots of their true desires. Whether your desires fall into a certain category of "style" has less meaning. You, alone, live with your art. You feel the passion you derive from it, and you evolve with it. Buy pieces that make your heart sing!
#2 Think about the reason you are buying.
Naturally, the first inclination for anyone is that you're buying pieces that you really love – that you want to live with and enjoy every day. Generally - that's over possibly a secondary reason of buying from the perspective of an investment. But deep down – are you thinking you'd like this piece to be an investment?
If you're buying it because you truly love it, then of course that makes it all easier. It's a piece that truly resonates with you; that you truly appreciate, you wish to look at every day, and want to have around for a very long time. Perhaps, to even hand down in the family. Is the price equal to the passion you have for it? Generally it is, that's why a piece that you have genuine affinity for - is the easiest type of "buy".
If you've buying with the thought of investment, and want to assure yourself that it will have long time value in the future, that can be a little more involved.
First time collectors should consider that there are quite a few factors that affect the price of the work. Weather it's a Limited Edition; (on Canvas or Paper) and signed & numbered by the artist. Or whether is the Original Oil painting on canvas, or linen. Then there are giclee reproductions on canvas, and giclee archival prints on paper.
Always, the Originals on Canvas or Linen will be the most valuable. It's the real deal, what the artist put much of themselves into. There is no substitute for brush strokes and real oil paint. Then follows Limited Editions (which, I as the artist - hand number and sign, and provide you with a genuine certificate of authenticity).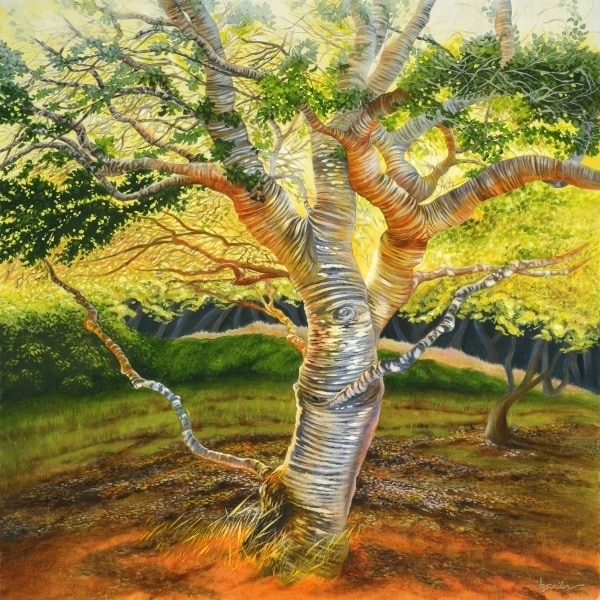 Carmel Valley Oak, 24x24 Oil on Linen by Bonnie Sailer
#3 Consider your budget
In your mind consider what you'd like to spend – and then do be prepared to spend a little bit more. You will find that the pieces you regret not purchasing can get away. Which leaves you with those that you "settled for". That my friends, is not a wise practice.
As well, the things that you didn't buy - but had an intense passion for, - the ones that got away, those will create even more regret. So don't put yourself in this position. You will forever remember the "lost ones". If you really love it, trust your heart; trust your instincts. The love of art really is forever.
Now why do I say – be prepared to spend a little more? Well, if there is shipping & insurance involved – there's your "little bit more". And if it's something that you truly, truly love - then well --- stretch a little. You want to be inspired and feel that deep affinity for that exceptional piece of art. A very special piece of art speaks to your soul, it brings you a lot of joy, and gives you that inspired satisfaction that many things in your home cannot.
#4 Choosing the right size of a piece
It's important to know the spaces that you have to work with, in your home and / or office. Sometimes falling in love with a piece necessitates moving an existing piece to another wall. So it's good to know your intended wall space for which you are buying.
Of course, we all know collectors that are ok with taking pieces off their walls, or moving art around to accommodate a new piece that they just have to have in plain view. And if they have no space to store their art – many times they resort to storing it carefully in closets (or under the bed), and rotating them from time to time. Still knowing your size boundaries makes the experience more satisfying.
You don't want to be disappointed that the new piece does not fit, or if it's a smaller piece - that it's overwhelmed by too much surrounding space.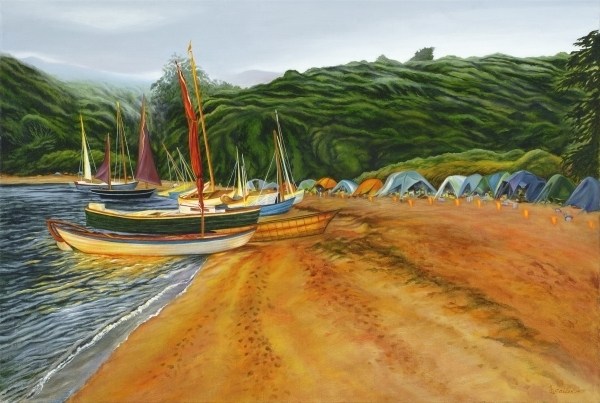 Tomales Bay Boats, 20 x 30 Oil on Linen by Bonnie Sailer
#5 Keep good records.
As with all art purchases, keep good records. Good transaction records are key. From emails, shipping receipts, invoices, and the all-important Certificates of Authenticity. Original pieces on Canvas will be numbered on the back and that specific number should be on your invoice and Certificate of Authenticity.
As well, Limited Editions; being numbered and signed by myself, the artist, come with a Certificate of Authenticity to be valid.
If you wish to valuate for some time in the future, and especially if you ever wish to sell a piece, it's super important to keep all documents safe so there is no doubt that you were the purchaser, and are the current owner.
Until next time, I hope you enjoy my art! Please share it with others, and I hope you will support me by choosing to adorn & beautify your home or office with a piece or two of Bonnie Sailer Fine Art. Thanks for reading my blogs!