WELCOME TO MY NEW WEBSITE! - BONNIE SAILER FINE ART @ ART STORE FRONTS
Aug 15, 2019
Welcome back! I've been absent for a while, but it's been a long time coming - to land at the place that I'm now at. So here goes:
Years ago at the inception of my 1st website, I found the process of refining it repeatedly - was necessary. I discovered that merely a "presence website"; one that allows the public to view my entire body of work, but not "assist" them to easily buy, was quite problematic.
So I hired a web designer to take the existing content - at the time, and manipulate it - to turn it into a "selling site" with a "buy" feature. Granted this was not a "built in" function on my old website, so major manipulation of code had to be written.
Formatting of all the paintings by size of the Originals and the varied reproduction options (pertinent to each painting) was a monstrous job. All these options; Original Paintings, Limited Edition Giclees on Canvas, Limited Edition Archival Prints and Open Editions all formulated in drop down boxes so my audience could buy.
This was not well enough in eyes of buyers. It turned out to be 8 months of work that left me with a site that was just not telling (or selling) my story – it was not enough. So I learned, and certainly – it was not the easy way.
Ongoing, the decision was made to switch from that artist website to a brand new one. I could not do this overnight as the cost was exorbitant. With lots of faith; I finally got there in February 2019, (after paying for the old website (at a loss), and the upstart of the new one. With huge the costs of the new.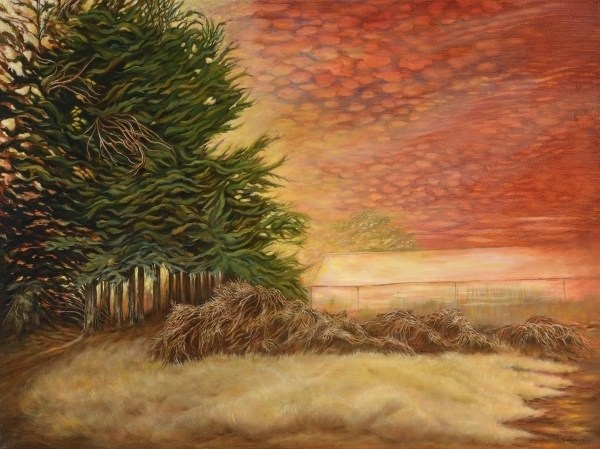 Watsonville Hothouse, 24x32 Oil on Linen by Bonnie Sailer
What you see today is my brand-new website; Bonnie Sailer Fine Art on Art Store Fronts – which was started in February 2019. Still, it was months of more work. And necessary to hire assistance to further refine and build out the site for maximum "ease" of use. Today the buyer wants the "Amazon experience". It had to be super easy and quite self-explanatory. I knew if I did not give my customers that type of experience, I'd be spinning my wheels.
So now this massive endeavor has been carried out after months and months of full time work. Additionally, I now offer a new category; Limited Editions (my hand signed and numbered pieces with a Certificate of Authenticity). These are in addition to the Originals, and Giclees; the reproductions that are printed on Canvas and the Archival Prints on paper.
Formatting the basics and making this new website "truly mine" – with my unique signature from style, colors, verbiage, the format, the choices in offerings you have, - is one of the biggest endeavors I've ever had to take on.
Artists endure endless months of work to join the e-commerce revolution, with learning curves way beyond initial comprehension. Still it all has to be carried out so that my fans have a superior buying experience.
Additionally, I knew that regular monthly Newsletters had to be written and be sent out. Blogs (longer and much more involved) had to be written as well, so that I could post them twice a month. So now, artists are really required to be "writers" too. That job alone - takes us away from painting.
So you ask - - when does an artist have time to paint? I suppose that in sharing this with you, it tells the story of many extreme measures artists must take on – in order to earn a living from their art ---- when their websites finally come to that place of being right. From there, then it's necessary to take on the Marketing and Social Media, Newsletter & Blog writing, Newsletter integration systems, etc. (all additional full time jobs). Taking paid courses to learn all the SEO is something the artist cannot ignore – it simply must be done and learned. You can't put the cart before the horse – so sometimes things just have to stop to make way for putting things in a correct order.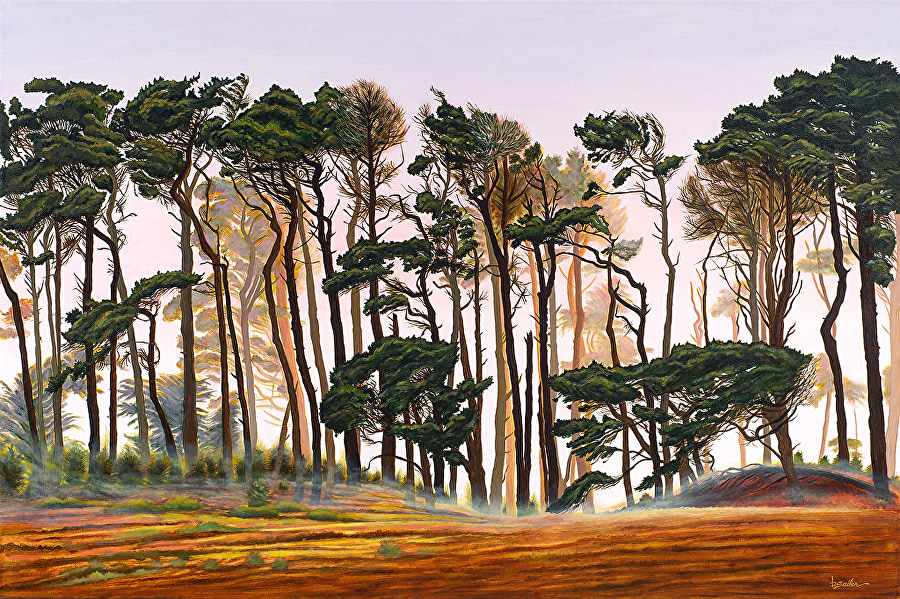 Pines bathed in Fog, 24 x 36 Oil on Linen by Bonnie Sailer
Thank you. I hope you'll check out my new website, and see all the amazing new features including the "Virtual Reality" tool– which allows you the live experience of seeing my art on your home walls in real time; in position and size – it's an amazing feature, and hope that you will use it to select a piece of art and support me in my dream to continue painting.
Until next time, I hope you enjoy my art! Please share it with others, and I hope you will support me by choosing to adorn & beautify your home or office with a piece or two of Bonnie Sailer Fine Art.